Expositie ms Rotterdam
Het volgende bericht (met foto) verscheen in de maart 2015/5 editie van E Nieuws HAL, de digitale nieuwskrant voor (oud-)medewerkers van de Holland America Line:
"Guest on Rotterdam Shares His Collection of HAL Tiles
No one can accuse Ton Rijppaert of packing light for his cruise aboard ms Rotterdam. Rijppaert, who currently resides in the ship's namesake city of Rotterdam, the Netherlands, brought aboard 280 Holland America Line commemorative tiles that he proudly displayed for his fellow guests at two viewings in the ship's Explorer's Lounge, on Jan. 28 and again on Feb. 11.
For decades now, HAL has commissioned the ceramic tiles to mark events such as ship inaugurals and as souvenirs for our loyal Mariners. Rijppaert was a cabin steward from 1964 to 1973 on five HAL ships – Rotterdam, Nieuw Amsterdam, Statendam, Maasdam and Rijndam – and he is now an avid cruiser, so it's easy to see where his hobby got its start. The tiles in this collection have been acquired through website and exhibition purchases, through auctions and as gifts from members of the Association De Lijn, which promotes contact between retired, former, and current HAL employees.
Rijppaert contacted HAL's sales and marketing office in Rotterdam prior to the cruise to see if the ship would be interested in having him bring the collection on board, and Rotterdam officers happily agreed. "It was very well received by our guests," said Event Manager Debbie Plewis. "It truly is an amazing collection – one of a kind.".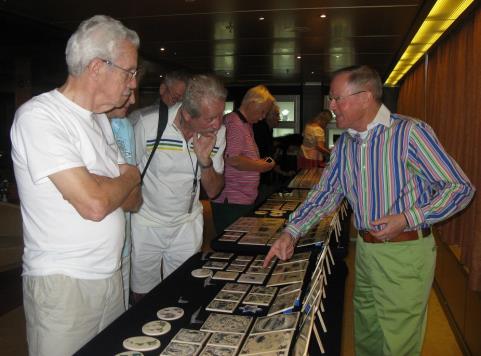 Inderdaad, met 50 kg extra bagage aan tegels (en fotoboek) waren we op 7 januari 2015 bij het inschepen aan de Wilhelminakade bepaald niet licht bepakt. Met dank aan het personeel van "housekeeping"  en eventmanager Debbie Plewis liep alles evenwel op rolletjes en heb ik met veel plezier mijn verzameling kunnen tonen tijdens het eerste en tweede segment van de "Passage naar het Verre Oosten" reis van de Rotterdam.