Inaugural Tiles
In 1990 the Holland America Line announced a program for the building of 4 new ships of a type that would be called the Statendam-class. Afterwards another 11 new ships (in different classes) would be built. Since 2002 the Prinsendam is part of the fleet and has its own class.  The Statendam and Ryndam left the fleet in November 2015. They are replaced by the ms Koningsdam, the first ship from the (new) Pinnacle-class that came into service in April 2016 and her sistership Nieuw Statendam that came into service in December 2018. The Holland America Line therefore has now 15 ships in service.
In 1993, when the ms Statendam (V) as first came into service, the Holland America Line started the issuing of tiles that symbolize the inaugural service of new vessels. As far as is known no inaugural tiles have been issued from the Amsterdam, Prinsendam, Volendam and Zaandam. Unless otherwise stated, the inaugural tiles have a size of 6″x 6″.
---
The S-class consists of the Statendam (1993), Maasdam (1993), Ryndam (1994) and Veendam (1996).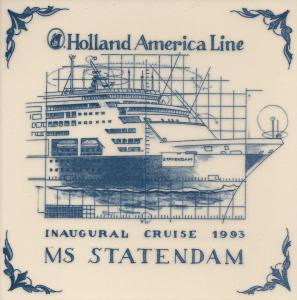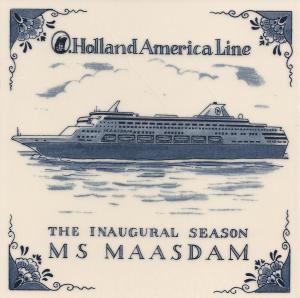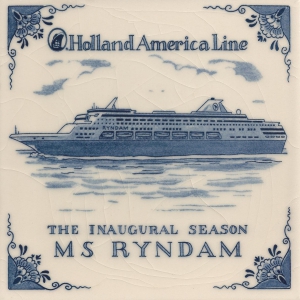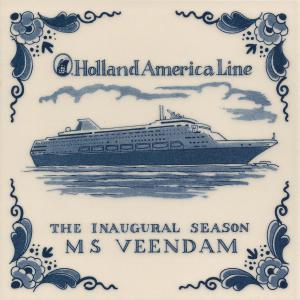 ---
The R-class consists of the flagships Rotterdam (1996) and Amsterdam (2001), the Volendam (1999) and Zaandam (2000).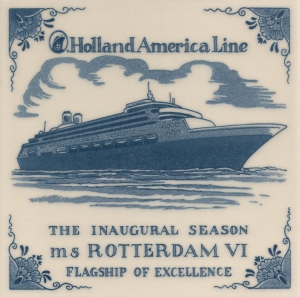 ---
The Vista-class consists of the Zuiderdam (2002), Oosterdam (2003), Westerdam (2004) and Noordam (2006). Additionally, a tile in 4″x 4″ format of the Oosterdam has been issued.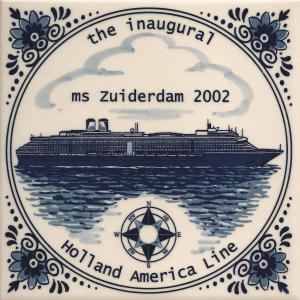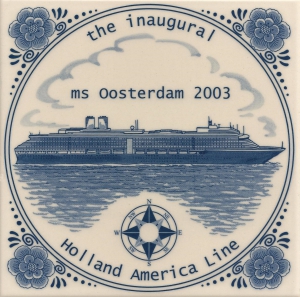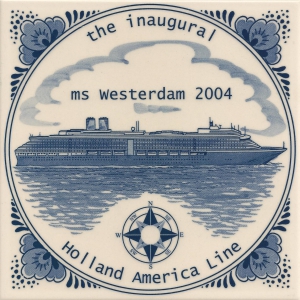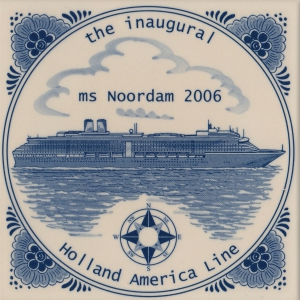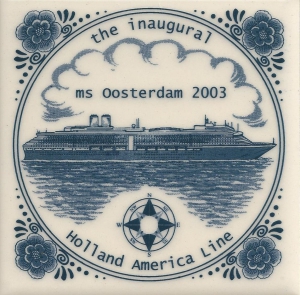 ---
The Signature-class consists of the Eurodam (2008) and the Nieuw Amsterdam (2010). These tiles are not manufactured by Royal Goedewaagen. The tiles come from the factory of Porceleyne Fles, where under the name Westraven tiles are made only by means of transfer technique instead of traditional paint work as usual at Royal Goedewaagen.
Additionally, a tile in 4″x 4″ format of the Nieuw Amsterdam has been issued, once again created by Royal Goedewaagen.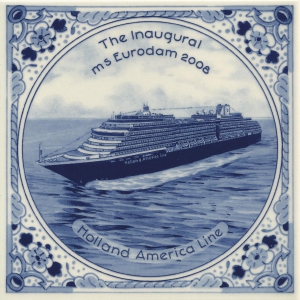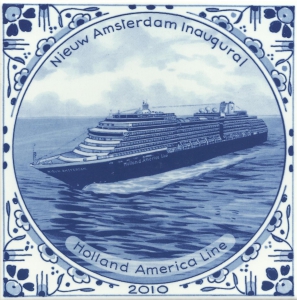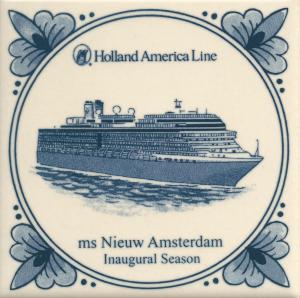 ---
The ms Koningsdam (99.500 GT, 2650 passengers, launched in April 2016) is the first ship from the new Pinnacle-class. The tiles measure 4″x 4″.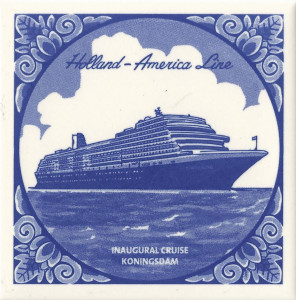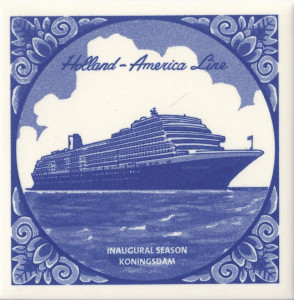 ---
This tile (6″x 6″) is issued on the occassion of the maiden voyage of the ms Nieuw Statendam. The tile has been pressed by Royal Goedewaagen itself; over the last years predominantly Portugese biscuit ware was used. This time the transfer decoration technique was chosen. Although identical to the Westraven editions of the Eurodam and the Nieuw Amsterdam, this new tile shows more graphical depth. The blue is different from earlier Goedewaagen editions.
The second of HAL's Pinnacle-class ships (99.500 GT, 2666 passengers) she has been given a name that alludes to five previous HAL ships named Statendam.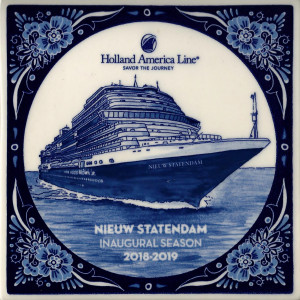 ---